Dear friends,
Be among the blessed and experience the last several opportunities to close out the holiday season in joy and strength (and a little confusion).
Shabbat 9-29 9:30am-12:30pm – Service at the synagogue includes a reading of Kohelet (Ecclesiastes)
"I have further observed under the sun that the race is not won by the swift, Nor the battle by the valiant; Nor is bread won by the wise, Nor wealth by the intelligent, Nor favor by the learned. For the end comes to us all." — Kohelet 9:11
Shabbat 9-29 approx. 12:30pm – A tree dedication and Kiddush lunch brought to us by the Hochhauser Family in memory and in honor of Susan Hochhauser, z"l.
"From pushing the creation of an endowment fund to co-editing our Jubilee cookbook, Susan Hochhauser literally had her hands in the both the body and soul of Temple Beth-El."
Shabbat 9-29 4:00pm – 7:00pm – Spackenkill Sukkah Hop brought to you by Beth-El.
The link below is to the map showing addresses and times to be at each house.
https://drive.google.com/file/d/1KHC1P3S0MI_gV1X-nJcFwpR2luog6xhK/view?usp=sharing
Sunday 9-30 8:30am – Hoshanah Rabbah is the final weekday Sukkot Service
There will be serious marching around with lulavim and Sifrei Torah, all with music played through our sound system, as well as serious willow whacking. Rather than being seen as a lofty psychological cleansing or a deep theological process of reforming our behavior, whacking the willows says Rabbi Brad Artson, is "…a summons back to halakhic tidiness—to cleaning up after ourselves ritually by disposing of our kelim [sacred implements] after they have served their purpose. And that is next to godliness."
Sunday 9-30 6:00pm & Monday 10-1 9:30am – Shmini Azteret (Private time between God and Israel, Prayers for Rain, and Yizkor)
All the offerings of Sukkot that we read about it (Seventy for the seventy nations of the world) have lead up to one offering which signifies our unique relationship with God.
Yizkor will be recited both that evening and the following morning as well.
Tuesday 10-2 9:30am – Kallat HaTorah and Kallat B'reishit (our Torah will be blessed by two women who are so committed to our synagogue and our people).
Our Simchat Torah morning services will include the moment where we conclude the reading of the Torah and immediately start in back at the beginning.  Our two honorees, Beth Richardson and Jackie Kahn, will receive the last and first aliyot of the cycle of Torah readings.  Two more amazing synagogue leaders who epitomize how we must serve the body and soul of our Temple. Congratulations Beth and Jackie.
Sukkot is still raging on and there is so much still to come beginning this weekend.
Moadim L'simcha everyone,
Rabbi Daniel Victor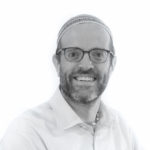 Reb Victor has been the Senior Rabbi of Temple Beth-El since 2015.  He received his rabbinic ordination and a Master's in Jewish Education from the Jewish Theological Seminary of America.