Dear friends,
I want to enter into Shabbat highlighting the ways our sacred texts can speak to the memories of sacred people. Every member of our community is sacred because each of us is created with a Divine spark. Each of us is sacred and each of us has story. Yesterday we laid to rest Elayne Weinstein and her story has impacted so many of us. Earlier that day I taught my class on the liturgy of Kabbalat Shabbat and we focused on the lessons of psalm 96. During, and in preparation, for the class I couldn't help but hear the text speaking to the lessons I could learn from Elayne while also hearing Elayne voice as I delved into and thought about the text.
As I shared in my eulogy at Elayne's funeral, psalm 96 speaks of majesty and strength. "Glory and majesty are before the one; strength and splendor are in God's temple."
Our text book for the class brought a great Chasidic commentary that I can share here.
"If an earthly king were to give someone a garment as a gift, to return it would be insulting and unseemly. Nevertheless, God gives us khiyyut (" vitality, life force"), and when we bring that vitality into our d'vekut (our yearning to cleave to the Holy One), this is effectively returning it to God. But not only is God not insulted; God responds by giving us even more vitality. And, in this way, when we return life force to God every Erev Shabbat, then God returns it to us with even greater purity."
I felt the symmetry, the back and forth between this commentary and Elayne's story. The message also happens to speak to why we come together on Shabbat. What is Shabbat's value proposition? We bring the Divine energy we have been gifted with into the mother-ship for a restore. When we do this not only do we get back what we came with, but we leave Shabbat with even more desire to serve than when we arrived.
Active listening, something our leaders would do well to practice if real solutions were to be reached, is an example of taking the gift of the other and returning it back to him/her only to have it come out again even more polished and more inspiring than before.
Perhaps we should all try taking in an idea and responding actively with interest and enthusiasm. When the giver of the idea sees that energy returning to him or her, I believe the next offering will be even more scintillating than before.
My Saturday morning conversations are back tomorrow morning at 9:30 as our religious school children will be with us again. The title of tomorrow's session is
"Kinship as Spiritual Practice: A Welcoming Ambience (Part I) "How lovely are your sanctuaries and study houses descendants of Israel"
We also have Hebrew learning with Naomi Kamalot, and as part of our Torah service our first and second graders will be receiving a wonderful gift from our school.
Shabbat Shalom,
Rabbi Victor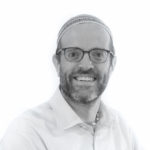 Reb Victor has been the Senior Rabbi of Temple Beth-El since 2015.  He received his rabbinic ordination and a Master's in Jewish Education from the Jewish Theological Seminary of America.