Dear friends,
This weekend announces the new Month of Nissan. Now we are really getting serious – Pesach is coming. As we are preparing for the holiday it is important to remember that we are not just purging our cupboards of chametz but we are also cleaning out our souls. The later of these two may seem like Yom Kippur in the springtime, and you know what, I guess it is.
Our parsha this week is Tazria, which deals with the lovely topic of skin diseases and a type of surface infection that emerges on our skin, gets into our clothes, and shows up on other organic material as well. Because of the extra Month of Adar, we get to spread out this topic and speak next week about this ancient infection spreading to the walls of our homes and other physical structures.
We are always looking for ways to take a lesson from these sections of our Torah and perhaps because we find ourselves cleaning out our souls and our homes for Passover, the Rabbis have seen these chapters about organic surface infections as a warning about how actions like gossip, sins that we think could remain private, always seem to rise to the surface. According to the Torah If there is instability or conflict in a community , home, or the heart of an individual someone can be there to identify it if the ailment is not brought out into the open and dealt with.
Earlier this week I had a conversation with Adrienne London who had just returned from a trip to Spain and Portugal. We started talking about how tourists today can visit the sites marked by the terrible atrocities of the Inquisition. Something Adrienne said to me really caught my attention. She said, "The places I have visited have really owned up to their mistakes."
Now when modern nations have such black marks in their collective pasts, it is hard to imagine them denying their history. The truth is, however, that over time the world has seen both cover-ups and owning-ups.
Something for us to think about as we are entering this new month of Nisan and cranking up the intensity of our cleaning and preparing is the extent to which groups, in this case Nations, have owned up to their pasts and the extent to which the world has been open to those who have sincerely tried to remember the past while moving forward into the future.
The world is made of concentric circles. It is often the case that actions taking place and reactions that follow on one circumference of one of the circles can bring lessons to those bodies traveling around a circle either closer or farther out from the core.
What does it take to (1) search for our imperfections, (2) make ourselves vulnerable by showing them, (3) doing the work to return from them, and (4) making room in our hearts for ourselves and others who are trying to walk the path to redemption?
A Shabbat Shalom, Chodesh Tov, and meaningful Pesach preparation to everyone,
Rabbi Daniel Victor
ACTUAL EVENT DATE AND SNEAK PEEK OPPORTUNITIES FOR NAVA TEHILA
Actual: May 19th @ The home of Nina and Russell Rothman 2-4pm with performing artists Nava Tehila live and in person
Sneak Peek into what they do: Wednesday evening April 10th 7:00pm will be a Nava Tehila infusion at the home of Mark and Susan Cooper.
Sneak Peek into what they do: Friday evening April 12th 8:00pm will be a Kabbalat Shabbat elevated by the intoxicating melodies of our two performing artists also in preparation for their arrival.
May the light that music brings, power our righteousness through this holy Shabbat and into next week.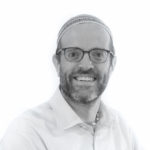 Reb Victor has been the Senior Rabbi of Temple Beth-El since 2015.  He received his rabbinic ordination and a Master's in Jewish Education from the Jewish Theological Seminary of America.