Dear friends,
This weekend our community is hosting writer and editor Jane Eisner from the Forward (https://tbeny.org/event/community-shabbaton-with-jane-eisner/). Our weekly Torah portion is Parshat Shmini, a parsha about the establishment of formal worship practices for the people and the high priests.
I see a connection between this convergence in that all of us need experiences that elevate the everyday practices which can become rote or otherwise devoid of meaning.
For many of us following the news today, reading newspapers, or online news pieces has become a process that spans the whole range. Somewhere along the spectrum is the feeling that all we can expect is more of the same, "There is nothing new under the sun." Whether the repetition feels good, bad, or somewhere in between, over time one inherently loses interest in the exercise. What better way to wake up one's experience of following the news than hearing from a journalist who has been in the middle of so many issues that have faced Jews in America, Israel, and around the world?
Meeting someone like Jane Eisner would be like meeting Doctor Barry Holtz after reading "Back to the Sources," or maybe Maggie Anton after reading the entire "Rashi's Daughters" series. And yet, what Jane is speaking about is not literature, it is the real life stories of real people and events, the significance of which we might otherwise miss if we just see them on screen or on a piece of paper. I hope many of us out there get to hear the news come to life in the words of Jane Eisner this weekend. It is an honor for our community to be hosting her.
As far as formal worship practices go, our parsha we have the process of Aaron bringing expiation to the people laid in meticulous detail. Talk about, "Seeing how the meat is made." For some things, including the process of being forgiven for our sins, perhaps we don't want the truth down to its inner most parts.
And yet, we believe that in these processes, in our news feeds, in our sacred liturgy, there is something of immense value.
The performing artists Nava Tehila, who are coming to Poughkeepsie in May (https://tbeny.org/event/music-workshop-with-nava-tehila/), are said to bring "New dedication, vitality and creativity to prayer with intoxicating new melodies that elevate the most evocative phrases from the Psalms. They invite all of us together to join them in creating a chorus of praise".* This past Wednesday some of us met in Linda and Eric's home to experience the work and music of the group in preparation for their visit. I want to share with you how we experienced two pieces of liturgy in particular that have been elevated with new melodies by Nava Tehila.
Or Zaruah, a piece we sing on Friday night's has been put to a beautiful tune by the group. The words of the song mean, "You seed light into tzaddikim, Joy into the heart of the virtuous." We discussed what this could mean on Wednesday. Does it mean that those who are righteous are gifted with light, that those who are righteous bring light to the world, that one's life is illuminated by being righteous, or that God injects those who are righteous with light to power them to go back out and do God's work in the world? However we understand it, by exploring the meaning of the text we see that a melody is not creating something out of nothing, but that it is elevating a treasure that every piece of liturgy contains. A tune for Or Zaruah has to lift us up, it has to emphasize the need for a reawakening of the passion to do good in the world. Here is our experience singing the piece after talking about its meaning.
https://drive.google.com/open?id=1C-FUeEtJPeO3DcunexV-tOHcGdGVsOOI
The second piece we experienced was Psalm 148, a psalm we recite during morning services.
"Hallelujah. Praise the Lord from the heavens; praise God in the heights. Praise the Lord, all majestic angels; praise God, all hosts. Praise God, sun and moon; praise the creator, all the stars of light.
Praise God, the heavens of heavens, and the waters that are above the heavens."
My first thought when reading this psalm is thinking back to how "Goodnight Moon" is read to children. The book is repetitive, good night this and good night that, etc. How do you keep the power of the book at a high level? Should the reader use different voices, change inflection, use hand gestures, experiment with facial expressions? In the case of this psalm where we are asked to praise each and every thing, what we need is a good understanding of the flow of the psalm and a good melody to pick it up. Look at the words. The psalm begins by praising the heavens, and so one might imagine that there is, "no going up" from there. In fact, next comes the angels, and then the moon and stars, lest you think they are Divine. The flow is down…..and then all the sudden the waters, which you would think would mean ocean, take you from below the luminaries in the sky (seemingly by process of evaporation) to high above even where psalm started. So you began at a high point and the point where the following melody ends has brought you higher than where you began. Wow!
https://drive.google.com/open?id=1M8Gs1HGwERzGU-a8a8BvScaFrsdnj0E2
Jane Eisner comes this weekend to Poughkeepsie. Nava Tehila comes the weekend of May 19th. Hopefully you have had the chance to look at some of Eisner's work before hearing her speak tonight, tomorrow, and/or Sunday. There will be multiple opportunities to hear the music of Nava Tehila before they arrive in May.
Sunday morning April 7th is an open date for a Nava Tehila infusion in your living room.
Wednesday evening April 10th 7:00pm will be a Nava Tehila infusion at the home of Mark and Susan Cooper.
Friday evening April 12th 8:00pm will be a Kabbalat Shabbat elevated by the intoxicating melodies of our two performing artists also in preparation for their arrival.
May the light that music brings, power our righteousness through this holy Shabbat and into next week.
Shabbat Shalom,
Rabbi Daniel Victor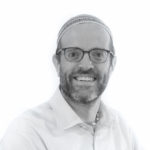 Reb Victor has been the Senior Rabbi of Temple Beth-El since 2015.  He received his rabbinic ordination and a Master's in Jewish Education from the Jewish Theological Seminary of America.