Dear friends,
I was going to write here about my views on the Nation State Bill that was passed just before Tisha B'Av.  I have decided to speak about it tomorrow morning in shul.  Here I am going to speak about addressing our own house.  Aside from the Nation State Bill having been passed, a Masorati colleague of mine was arrested in Israel for performing Jewish marriages without informing the orthodox rabbinate.
On Tisha B'Av we mourn the destruction of our temples by the Romans and the Babylonians.  It is easy for us to put the tragedies of our people on the shoulders of others.  But is it now time, if we are really seeking comfort for a people seemingly always under stress, to put our own house in order.
Last week the Rabbinical Assembly put out a statement in reaction to the arrest:
We, the Masorti/Conservative Movement representing two million Jews around the world, are outraged by the arrest this morning of Rabbi Dov Haiyun of Moriah Congregation in Haifa, who was awoken at 5:30 am by police for the "crime" of officiating at a wedding outside the authority of the Israeli ultra-Orthodox Chief Rabbinate. Rabbi Haiyun potentially faces two years in prison for officiating at this wedding.
Rabbi Haiyun, who was ordained by the Masorti/Conservative movement at Schechter Rabbinical Seminary in Jerusalem, is the first to be arrested for this act since the law forbidding any rabbi outside the Rabbinate to officiate at a wedding was passed in 2013. Today's actions against Rabbi Haiyun marks a new and dangerous step in the ongoing attack on religious freedom and civil liberties in Israel; one, thankfully that was thwarted by order of Attorney General Avichai Mendelblit.
We uphold the right of rabbis of all Jewish streams, not just those under the auspices of the Chief Rabbinate, to conduct a wedding 'according to the law of Moses and (People) Israel.' We stand in solidarity with Rabbi Haiyun and all our colleagues in Israel who bring couples together in love and marriage according to the traditions of the Jewish people.
Cantors Assembly, Federation of Jewish Men's Clubs, Jewish Educators Assembly, JTS, Marom Olami
Masorti Foundation for Conservative Judaism in Israel, Masorti Israel, Masorti Olami, Mercaz Canada, Mercaz Olami, Mercaz USA, Seminario Rabinico Latinoamaericano, The North American Association of Synagogue Executives, The Rabbinical Assembly, USCJ, Women's League for Conservative Judaism, Zacharias Frankel College, University of Potsdam, Ziegler School of Rabbinic Studies, American Jewish University
A statement by our sister movements is important, but what are we really going to do to change things?  Israel is continually alienating Am Yisrael; the entire Jewish people who live within the Diaspora.  One of my colleagues suggested that enough of our rabbis should move to Israel so that we can start a political party that can challenge the ultra-orthodox parties in Israel.  Let's just say the package of plane tickets hasn't been purchased yet.
But there must be something to do.  There must be ways for the openness and tolerance we see more often than not here in this country for example, to influence how Eretz Yisrael operates (No, our internal pluralism is not perfect).  Liberal Jews must stand up against those in Israel and in other areas of the world who argue that Conservative and Reform Jews are destroying Judaism.  It is simply not true.
I believe that our commitment to Israel must get stronger rather than weaker at times when the Israeli government takes such actions.  We have learned recently in this country that just because a law is on the books, doesn't mean that it must be enforced.
This week's parsha brings us the words of the Shema.  We are reminded by these words that God, our creator, is one.  God is not divided, God is unity, and so we must be a unified people.  Israel must hear from the Jews of the Diaspora that such actions will not be tolerated.  This is an issue within "our house" and action needs to emerge in order for Judaism to be most effective in bringing our ethics and morality to the larger world.
Shabbat Shalom,
Reb Victor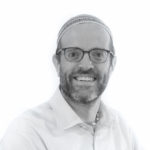 Reb Victor has been the Senior Rabbi of Temple Beth-El since 2015.  He received his rabbinic ordination and a Master's in Jewish Education from the Jewish Theological Seminary of America.