Rabbi Daniel Victor
Senior Rabbi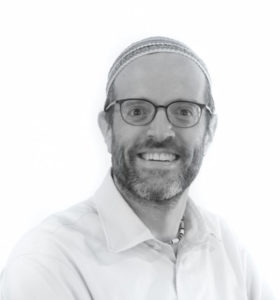 Hello, my name is Daniel.
I have been the senior rabbi here at Temple Beth-El
since 2015, and I say thank you every day for the opportunity to bring my love
of God, Torah, and Am Yisrael to this community. I received my rabbinic
ordination and a Masters in Jewish Education from the Jewish Theological
Seminary of America. From my days at the Seminary through my experiences at
multiple synagogues, Jewish Camps, Day Schools, Federations, and Jewish
retreat centers, I have been honing my commitment to diverse Jewish
experiences and to infusing Judaism into all areas of life.
Jewish communal life in general, and Conservative Judaism in particular, bring
powerful opportunities, responsibilities, and challenges. Our responses
should be active ones and can come through spiritual exploration, dialogue,
learning, story-telling, and acts of loving-kindness, both formally and
informally — spanning all ages and interests. Attending to individuals and
families during life cycle transitions, making Torah relevant to people's
relationships and daily life, and my passion for spirited and joyful spiritual
experiences comes from deep in my kishkes. I try to model a life guided by
our most sacred Jewish values such as kindness, tolerance, collaboration, and
awareness of a united sacred purpose.
In July 2014, I participated in a great program known as DLTI. The Davvenen'
Leadership Training Institute (a cohort of spiritual practitioners) housed at
Camp Isabella Freidman was transformative in that it strengthened my skills in
leading communities through spiritual engagements and revealed to me the type
of community that best suits my talents and interests. In 2015 I studied
story-telling with renowned Maggid (spiritual story-teller) Yitzhak Buxbaum.
It is tenets of the Conservative movement, like "Tradition and Change," which
have inspired the epithet I have brought here, "Tradition through open doors."
We can all continually work to deepen and enrich our personal and collective
wells of creative and inspiring forms of Jewish engagement and the study and
application of Torah.
I am a native of Massachusetts, so, I am sorry to say, I am a Red Sox and
Patriots Fan, but the team that gets the greatest cheers from me is my family.
I have two children, Max (born 2007) and Noa (born 2014).
I look forward to the opportunity to meet you and hear your story. My email is rabbi@tbeny.org. Make sure you start with,
"Hello, my name is...."
Don't see what you're looking for?